Be A Tourist in Your Own Hometown
Date: Feb. 22-24 and Mar. 1-3, Fri, Sat, & Sun
Time: 1 pm and 2 pm
Get a glimpse into the history of Market Square at a Gold Miners, Gamblers, and Ghost tour led by local historian John Adams. Meet at Market Square main gate at 560 Johnson Street. No reservations required. Be sure to dress for the weather.
St. Patrick's Day Family Fun
Date: Mar 17, Sunday
Time: 12 pm and 5 pm
Games, food, entertainment! A family event with free admission. Presented by the Greater Victoria Festival Society.
Past Events
Francophone Festival
Date: June 23 – 24, Saturday and Sunday
Time: 11 am – 4 pm
The Thirsty Chef 4
Date: July 28, Saturday
Time: Noon to 4 pm
A West Coast food and craft beer experience not to be missed. Presented by The Drake Eatery.
Raven Baroque
Date: August 11, Saturday
Time: 1-2:30 pm
Rock out to tunes from the 1600s by your favourite baroque band!
Global Village Store's 30th Birthday Party Celebration
Date: August 18, Saturday
Time: Noon to 3 pm
Come celebrate 30 years of dedication to fair trade with cake and live music in the Square.
Fringe Kids Fest
Date: August 25, Saturday
Time: 11 am – 4 pm
100% free fun for kids! Crafts, entertainment, and the famous giant cardboard castle the wee ones love to paint.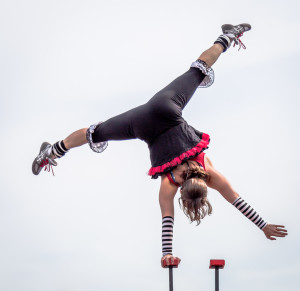 Downtown Victoria Buskers Festival
Date: August 31 – September 3, Friday to Monday
Time: Noon to 7:15 pm
Awesome street talent from all over the world. Visit
downtownvictoria.ca
for a schedule of performers.
Nerdy Days of Christmas Craft Fair
Date: Dec. 1 & 2, Sat & Sun
Time: 11 am – 4 pm
Come join us for two days of nerdy fun! Shop for loads of nerdy crafts and art from talented local people. Presented by Cherry Bomb Toys, entry is by donation with 100% of door proceeds donated to Victoria Hospitals Foundation.
Tuba Christmas
Date: Dec. 8, Sat
Time: 1 pm – 3 pm
The first Tuba Christmas was in 1974 in New York City. Now, more than 40 years later, Victoria is among the 200+ cities worldwide that participate in this iconic event. Musicians come from all over BC and the Pacific Northwest to play holiday favourites on their tubas. It only happens once a year!
Greater Victoria Concert Band's
Music in Market Square
Date: Dec. 15, Sat
Time: 1 pm – 3 pm
The wonderful sounds of Christmas music fill the Square with holiday cheer. This is Greater Victoria Concert Band's Christmas gift to YOU!